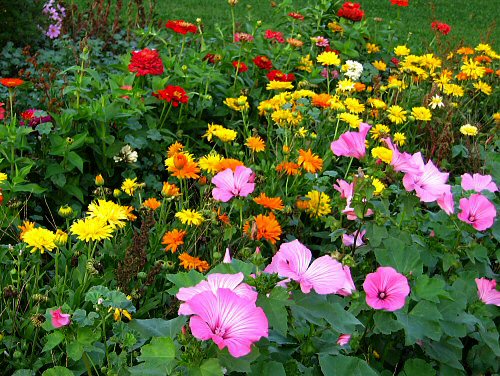 For years, gardening was my summer passion. Our home in Maroa, built on farmland, was blessed with rich soil that made the task rather effortless. My love of gardening had a simple inauguration. I started out with a few flowerbeds to landscape the back of our home which over time grew into our backyard refuge. I knew the name of every flower, plant, bush and bird that found its home in our yard. When Don died, so did the passion to garden and for the life of me I don't know why. It is but one of the oddities on my journey that I simply can't figure out.
This weekend I caught the bug again. The passion was activated when I scrubbed the dirt from the pole system and hung my bird feeders making it easy to survey the birds finding sanctuary there. Gradually, I began to recall the names and recognizable sounds of common backyard birds. Taking in the familiar sparked an exhilaration that I can't explain. Subsequently, the soil simply began to call.
After examining the yard and its myriad of opportunities, I chose to begin with a small plot by our deck. I purchased some bulbs, perennials and a lovely pink rhododendron to place into my new flowerbed. I bought annuals for the planters on the front porch and hanging baskets of flowers to share with the birds. Finally, Kent and I purchased our first piece of furniture as a married couple - a beautiful granite topped outdoor table and chairs.
There is something therapeutic about getting your hands dirty—of sifting through dirt and planting new life. There is also something soothing about sitting in nature and taking in its beauty and solace. The exhaustion of planning, planting and working the soil is outweighed by the pride of accomplishment when you are finished. Perhaps our life moves in cycles of passion—or perhaps our passion is more connected to our life experiences than we think.
The soil in our new home is nowhere near the quality of the house in Maroa. It needs to be worked and enriched and worked some more to become ideal for new growth. It is much more difficult to prepare the soil, but more rewarding when completed. Cultivating the soil reminded me that sometimes our life is like clay—we are undernourished, and rather inadequate for growth. We didn't get to this point on purpose - life circumstances brought us here. Just like the soil, it is only when our lives become enriched through relationships, renewed passions and productive living that we become equipped for growth once more. It isn't easy - we must choose to fill our lives with nourishment. Just as I had to consciously make the decision to get in my car, drive to Menards and purchased enrichment for my garden soil, so must I make a conscious effort to enrich my own life.

This I know for sure...